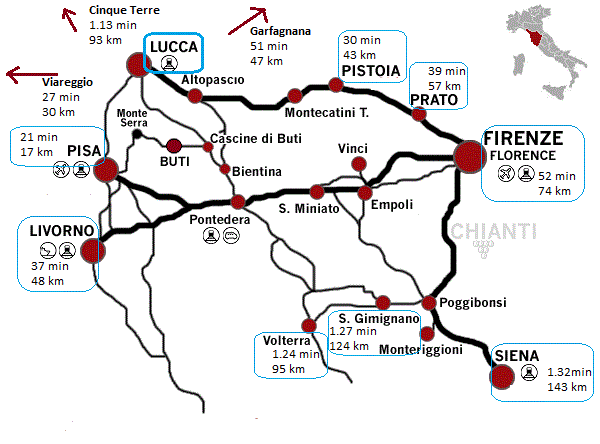 Finding us
By Car
The B&B is in a extremely favourable part of Lucca.
We are located in the southern area and pleasantly
within the wall and historical center of Lucca, yet,
you do not have to pass by any
Limited Traffic Zones (ZTL), which are numerous here
in the center. We are near the
Train Station of Lucca and, being close to the
entrance of San Pietro, we are conveniently
close to cheap, even free, parking areas
(which are not easy to find in Lucca).
From all the motorways and highways, take the Lucca exit and follow signs toward the Train Station, you can't go wrong! Then, look for sign to "Porto San Pietro" (the gate of Saint Peter)
Once entered the wall though Porto San Pietro, follow the road that curves right, take the 2nd left, then the 1st left, you will be on Corso Garibaldi, go straight until you see Z.T.L. signs (limited traffic zone where you need a special pass to enter) and turn left one more time. Now you are in a small parking area at the end of Via della Polveriera. We are about 5 seconds from this lot!
By Foot
We are literally a 5-minute walk from the train station, maybe more if you've got heavy bags.
Exit the train station and go across the
street toward the wall. DO NOT go through the entrance directly across from the train station, instead turn left and walk along the sidewalk, with the wall on your right for about 2 minutes until you arrive at Porta San Pietro, the main gate of Saint Peter. Go through this entrance and take Via San Girolamo straight but a little to the left toward the city center. The B&B will be on the first street on the right Via della Polveriera. We are on the corner.
PARKING
Within the wall of Lucca parking is 1.50 Euro an hour, from 8am to 8pm.
Just outside the wall, still quite near the B&B, parking is 1 Euro an hour, from 8am to 8pm
Outside the wall and across the street, still quite near the B&B, parking is .20cents for the first hour and 1 Euro for every hour after that. When you insert 6 euro, the meter will give you until the end of that day!
Free parking near the Train Station, usually full. White parking lines mean free, blue mean pay parking, and yellow are for residents only.
Just over the train tracks is the area called San Concordio of Lucca, one can find free parking lots in this area, but it is about a 10 minute walk to the B&B.